Emergency Disaster Relief
If you have been impacted by the fires in Northern CA, you can apply for a grant through FEMA for disaster relief.  You need to apply to receive any funds.  Go to DisasterAssistance.gov and type in your address.  It will confirm whether or not you reside in an area that has been designated for disaster relief and there will be a link where you can apply for a grant.  Note: grants are NOT loans.  They do not have to be paid back.  These are funds to help you deal with your immediate needs.
If you experience difficulty applying online, you may also call (800) 621-3362 / TTY (800) 462-7585 to apply during standard hours of operation (7 a.m. to 11 p.m. Eastern Time), 7 days a week.
If you have insurance through Pronoeo Insurance Agency, please click on the Policy Center tab at the top of the page for contact information for your insurance carrier.
For other Disaster Relief Resources such as having your property re-assessed for calamity or how to claim the loss on your tax return, click here.
Santa Rosa Insurance Brokers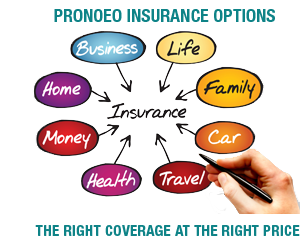 THE RIGHT COVERAGE AT THE RIGHT PRICE
When Life Takes Unexpected Turns, Will You Be Prepared?
Pronoeo Helps You Protect:
Your Business
Business Liability, Business Property, Workers Comp, E&O Insurance, Key Person Insurance, Buy/Sell Agreement Funding, Employee Benefits
Running a business is a complex puzzle.  On top of providing a product or service, you have to comply with regulations and make sure to mitigate potential hazards like lawsuits: customers slip and fall; employees getting injured while working; costly mistakes being made, etc.  It seems like there is a lawsuit waiting around every corner.  Complying with regulations can get expensive.  That is why we shop around for the best product at the best price – to help you stay in compliance and stay within your budget.  Start

here

to see where we can help you.
You and Your Loved Ones
Health, Vision & Dental Insurance:
Whether you are an individual or a business owner with many employees, we can help you through the maze of the Affordable Care Act.  We are Certified with Covered CA, as well as appointed to work directly with the individual carriers.

Click here

to see how health care reform may affect you
Individual health plan open enrollment starts in November. See our

Health Coverage

page to learn more.
Your Assets
Life, Disability & Critical Care Insurance:
What happens to you, your loved ones, your home, or your business if you suddenly are not able to bring home a paycheck?  Whether it is a family history of disease or an unexpected car accident, having a sudden change in circumstances not only affects you, but those who rely on you.  Having the right coverage to make sure things don't fall apart without you is wise planning.  Click here for more information.
Future Planning
Supplemental Medicare, Annuities, Long-Term Care Insurance
We all want to get to the point where we can retire and enjoy all that life has to offer.  Having enough money to live on, having the right medical insurance to keep you healthy, and having a care plan for later on can help you enjoy your "golden years" without stressing you or your loved ones.
Everyday Encounters
Have you ever been dealt with unfairly?  Perhaps by a retailer, or a neighbor, or your boss?  Have you ever had your identity stolen?  What about those contracts that the telephone companies and cable companies have you sign – do you really know what they say?  Have you ever purchased a car or a home?  Do you really read those contracts and know the fine print?  Having the right protection in place can save you thousands of dollars in attorneys fees, not to mention hundreds of hours of your time trying to deal with it.
When you're in a foreign country, it helps to have a guide who knows the language.The field of insurance can seem like a foreign country, with strange words and confusing directions. We speak the language. We'll translate for you.
We help you:
sort through all the confusing options
understand what you need AND what you don't need
make informed decisions that will be right for you, your family, and your business
DON'T LET CIRCUMSTANCES RUIN YOU FINANCIALLY
Locally-owned agency. Small agency, big services. There's a real person available to talk to you on the spot or call you right back.
WE WORK FOR YOU, NOT FOR THE INSURANCE COMPANIES.
Unlike a captive agent, we are not obligated to sell a parent company's products and convince you that you need what we have.  We are an independent agency, which means that we do not have a parent company.  We have access to a large number of insurance companies, so we are able to shop around for you and find which policy fits your needs.  Our goal is to get you the right insurance at the best price.